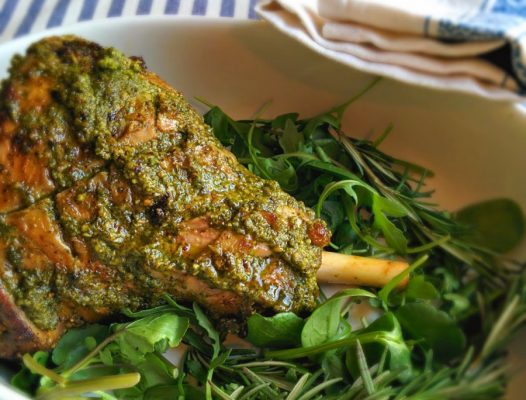 Ingredients 
2kg lamb leg, skin scored (see tip)
Fresh garden herbs, to serve (optional)
Sliced lemon, to serve (optional)
1 small garlic clove, roughly chopped
Small pack basil, leaves only
Small pack mint, leaves only
25g pine nuts
25g grated Parmesan
125ml extra virgin olive oil
Juice ½ lemon
Step 1
First, make the pesto. Put all the ingredients (except the olive oil and lemon juice) and a pinch of salt into the small bowl of a food processor. Pulse until very finely chopped. While the processor is on, drizzle the olive oil in to make a paste. Tip the pesto into a small bowl and stir in the lemon juice.
Step 2
Heat oven to 200C/180C fan/gas 6. Put the scored lamb leg in a large roasting tin and use half the pesto to generously coat the skin and flesh, pressing it between all the cracks for extra juiciness. Put the rest of the pesto in the fridge, covered with cling film, and remove just before serving.
Step 3
Roast the lamb for 1 hr 45 mins. Check during cooking that it's not drying out – if the base of the roasting tin starts to look dry, spread a little more pesto over the top of the lamb.
Step 4
Remove the lamb from the tin, cover with foil and leave to rest for 30-40 mins before serving on lemon slices and fresh garden herbs, if you like. Carve at the table and serve with the remaining pesto to drizzle over.
Why not order your meat online? Click "Shop Online" to get started.